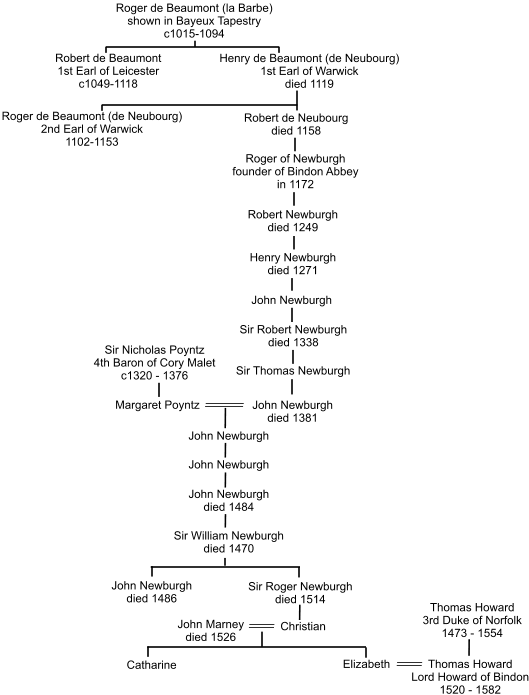 Newburgh family genealogy
In 1447, a court arbitration hearing [34] was held at Cerne Abbas, to judge between rival claims over the ownership of Sutton Poyntz. The claimants were Amicia Stafford and her husband James Butler, earl of Wiltshire, on the one hand, and John Newburgh of Winfrith and East Lulworth on the other. The arbitration awarded the manor of Sutton Poyntz to Amicia and James and "the heirs of their bodies" (i.e. any children, grand-children etc. they may have), with remainder to John Newburgh and the heirs of his body. In simple terms, Amicia and James would continue to own it and would pass it down to their children, but if they had no children, then John Newburgh would take ownership.

Sutton Poyntz had been owned by the Poyntz family between some time before 1212 and 1315. In 1315, it was given as dowry to the widow of one of the Poyntz's when she re-married, to Sir Roger de Chaundos. In 1361, when it came back to the Poyntz family, it was sold to Sir Guy de Bryan, and passed down the Bryan family, eventually to Amicia Stafford, who married the earl of Wiltshire.

Amicia died in 1457 [36], and James was beheaded after fighting on the losing side at the Battle of Towton. Neither of them had any children. The manor of Sutton Poyntz therefore came to John Newburgh in 1461, in accordance with the 1447 arbitration. We know for sure that John Newburgh owned it, from the inquistion post mortem entry at his death in 1483 [39].

Origins of the Newburgh family
The Newburgh family had lived in Dorset at least since about 1150, since records [see for example Hutchings History and Antiquities of Dorset] show them as the founders of Bindon Abbey; this abbey was originally created near the sea below Bindon Hill, on the east side of Lulworth, but was moved by the Newburgh's to its later site to the east of Wool. The Newburgh's became patrons of the abbey. Initially, the Newburghs lived at Winfrith Newburgh (which of course got its name from them); later records show them as holding, and living at, East Lulworth.

The earlier origins of the Newburgh's is less certain, but one plausible theory is that they were descended from a Norman nobleman, an important supporter of King William I, called Roger de Beaumont. This Roger is shown in the Bayeux Tapestry, eating with Duke William shortly before the Conquest. One of his sons held the lordship of a place in Normandy called le Neubourg. This story, although uncertain, is described below.


The Newburgh's and Sutton Poyntz
In about 1350, one of the Newburgh's of Winfrith and Lulworth, John Newburgh, married an heiress called Margaret Poyntz. Margaret was one of two daughters of Sir Nicholas Poyntz, the 4th Baron Poyntz of Curry Mallet. Under the inheritance laws applying at the time (the laws of primogeniture), family estates would pass to the oldest son. Sir Nicholas, however, had no son, so his estates were shared between his two daughters, and eventually came to John Newburgh and his heirs when Margaret's sister died without heirs of her own.

The Poyntz estates therefore came to the Newburgh family. For reasons that are described above, however, these estates did not include Sutton Poyntz, which had been sold to the Bryan families.

As noted above, a court abritration in 1447 ruled on the ownership of Sutton Poyntz, which was claimed by John Newburgh and by Amicia Butler, a descendant of the Bryan's. It is not clear at all to us at the moment, however, how the Newburgh's had any claim to the manor. Just possibly, John Newburgh made a successful claim that, should Amicia die without having any children, there would be no direct descendants of Sir Guy de Bryan who had bought Sutton Poyntz from the Poyntz's in 1361, and that if this was the case, the manor should be returned to the heirs of Sir Nicholas Poyntz who sold the manor. And that descendant was him, John Newburgh. This claim, if that was indeed the claim he made, seems to us to be fallacious on two counts.
Firstly, it seems to rely on a confusion between the Sir Guy de Bryan who bought Sutton Poyntz and his son, also called Sir Guy de Bryan (Guy the younger). Guy the older, who bought Sutton Poyntz in 1361, did in fact still have direct descendants, through a daughter. The only living descendant of Guy the younger was indeed Amicia, so if she died without children, his line would end.
The second reason why this claim, if made, was wrong, is that the sale in 1361 was to Guy de Bryan "and the heirs of Guy", rather than "and the heirs of his body". This rather technical point means that if the direct line died out, the manor would pass to other more distant relations of Sir Guy de Bryan.
Nevertheless, it is clear that the court arbitration did in fact accept whatever arguments John Newburgh put forward, and that when James and Amicia died without children, Sutton Poyntz did indeed pass to John Newburgh.

It is interesting to note that the other very extensive properties inherited by Amicia from her ancestors were the subject of a battle royal when she died, involving the Butler family, earls of Ormonde (through James's marriage to Amicia, and the Percy's, earls of Northumberland, the Poynings family and the Seymour family, all of whom claimed some descent from Sir Guy de Bryan. See for example the very interesting history of the Bryans in the website on the village of Kingsdon in Somerset.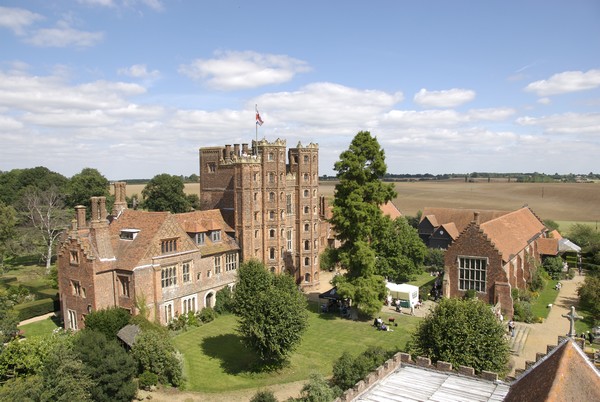 Layer Marney Tower - Tudor palace of Marney family
(with the tallest gate-house in the country)
The end of the Newburgh line
By 1484, at the death of the John Newburgh who recovered ownership of Sutton Poyntz, the "inquisition post mortem" recorded the land holdings of John, including Sutton Poyntz. The estates passed to John's grandson, another John (John's son having pre-deceased him). This John Newburgh only lived another two years, and the estates then passed to his brother, Sir Roger Newburgh.

When Sir Roger died, in 1514, he had no sons, so the estates passed to his daughter Christian, and her husband John Marney, lord of Layer Marney. John Marney came from an important Essex land-owning family; his father Henry set out to built a palace at Layer Marney, which John continued to his death in 1526. John and Christian had no sons, but two daughters, Catherine and Elizabeth. They were still minors when their father died, but eventually inherited the family estates, including the Essex estates of their father and the Dorset estates of their mother.

Sutton Poyntz was in the portion of the estate that was allocated to Catherine, the elder daughter. Catherine married twice, firstly to George Ratcliffe and secondly to Thomas, lord Poynings. Catherine had no children, and in accordance with the law of the time, the Dorset estates should then have passed to the other sister. It seems, however, that Baron Poynings hung on to the estates, and at his death passed them to his brother Adrian. This caused a legal mess that was not sorted out for many years, made more complex still because the two Poynings brothers were what was technically known as 'aliens' having been born abroad. Baron Poynings sold Layer Marney (to Lord Audeley), and bought additional lands in South Dorset, including West Lulworth, Wool, Bovington, East Ringstead and East Burton. Much of this was later sold on to Thomas Howard, so strengthening and enlarging the Lulworth estates significantly.

So eventually, partly by inheritance and partly by purchase, the enlarged Lulworth estates (including Sutton Poyntz) came into the possession of the younger Marney sister, Elizabeth, and her husband, Thomas Howard, a member of one of the most important and fascinating families in England. Which is another story ....

---
Roger de Beaumont was a Norman lord, about 12 years older than William the Conqueror. When Duke William of Normandy (as he was then) had to deal with disputes about his right to the Dukedom, Roger was one of William's strongest and closest allies.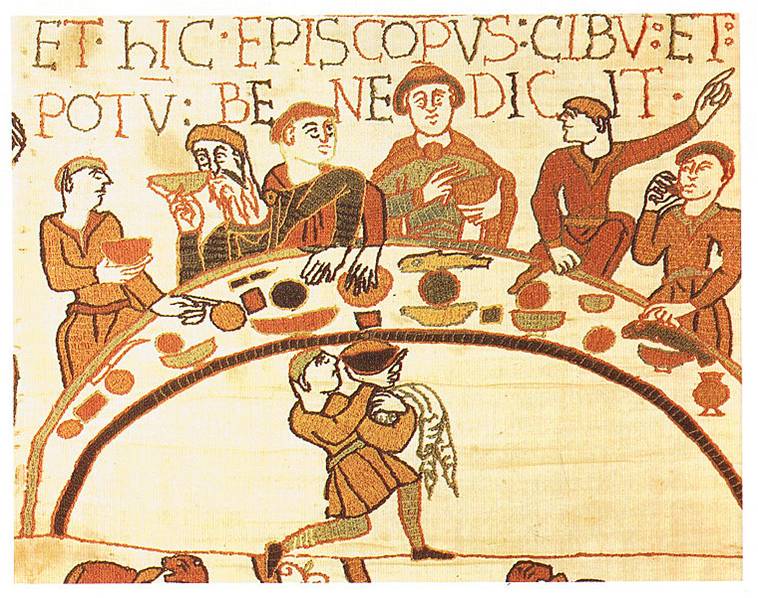 By 1066, when Duke William invaded England and defeated King Harold, Roger was past his fighting days, but nevertheless Roger is depicted in the Bayeux Tapestry, at what was presumably a planning meeting before the invasion - Roger (known as 'la Barbe') was the one shown with a full beard, unusual for the time. Roger's older son, Robert, fought at the Battle of Hastings, and led a Norman troop on the right wing "with the utmost bravery and success". He was rewarded with the Earldom of Leicester.

Roger lived until 1094, but it seems he probably retired for the last years of his life, possibly to a monastery. However, he is shown in the Domesday Book of 1086 as the owner of just a few pieces of England. They are all in Dorset, and although they do not include either Winfrith or Lulworth (which were held by the king himself), they do include Steeple and Church Knowle, just to the east of Winfrith.

Roger's second son was Henry de Beaumont. Henry did not fight at Hastings (probably too young), and was not immediately granted any lands in England. Henry was granted the lordship of a place near Rouen in Normandy, called Neubourg, and became known as Henry de Beamont de Neubourg. In 1088, there was a revolt by Norman lords against the recent succession of king William II. The background to this was that William the Conqueror awarded his Norman lands and dukedom to his older son, Robert, and his English lands and crown to his second son, William - many of the Norman lords felt this was a slight to Robert and to them, and revolted against William II. Henry was one of the lords who supported William II, and helped to put down the rebellion. For this, he was granted the earldom of Warwickshire, and significant lands in England. We have not yet found proof, but it is very plausible that Henry might have been granted lands in Dorset, including those of his father when he died.

Henry passed on his dukedom of Warwick, with the lands pertaining to that, to his eldest son (also called Roger de Beaumont). He passed his lordship of Neubourg to a younger son, Robert de Neubourg. It is inferred (but without strong proof) that Robert de Neubourg also was granted lands in Dorset, and was the father of the first Newburgh for whom we have definite documentary evidence at Winfrith, Roger de Novo Burgo who in 1172 gave land near Wool for the new Bindon Abbey site. The evidence that Robert and Roger were father and son seems to be strong, but not certain - just possibly the manor of Winfrith could have been awarded to a supporter of the de Beaumonts, rather than to a direct descendant. We will probably never know for sure - however it is interesting that the Manor of Winfrith was held by the Newburgh's in excahnge for the supply of water to the Royal Court, rather than the normal military duties; this could perhaps imply a closer tie to the King than normal.