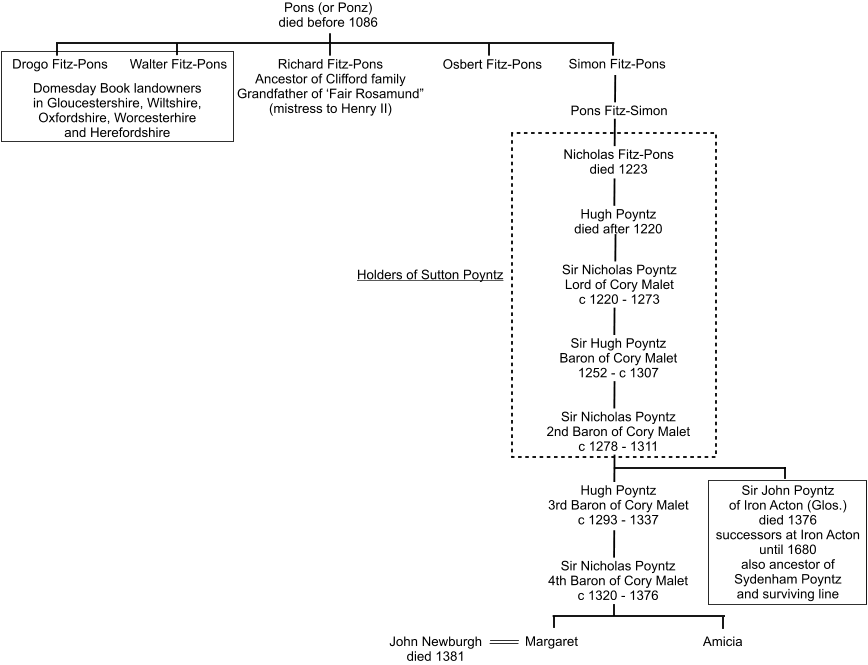 Poyntz family genealogy
In 1086, the Domesday Book recorded [1] that Sutton Poyntz was held by King William, as part of a Royal Manor. The next document that we have found so far that refers to Sutton Poyntz is in a taxation register known as "Testa de Nevill", dated 1212; this record [3] states that Sutton Poyntz is now held by someone called Nicholas Poyntz, as part of the "honour" (i.e. Barony) of the Earl of Gloucester; at that time the Barony of Gloucester was held direct by King John.

Nicholas's son Hugh died before his father, so he did not own Sutton Poyntz (although it seems [Fine Rolls dated 1237] that his widow Helewise (nee Malet) held it in dower for a time). Later documents (known as Inquisitions post mortem) dated 1273 [4], 1308 [5] and 1311 [6] show that the next three generations held Sutton Poyntz at their death, still as part of the honour of the Earls of Gloucester.

Click here to learn what is known or believed about the origins of the Poyntz family. The Poyntz family who held Sutton Poyntz probably originated in Gloucestershire, where they held the manors of Tockington and Swell. Later they also owned Curry Mallet in Somerset, Dullingham in Cambridgeshire and Hoo in Kent. Genealogies speculate, without real evidence, that the Poyntz's were descended from someone called Pons, for whom there is documentary evidence as a land-owner soon after the Conquest.

Poyntz, Barons of Curry Mallet
Hugh Poyntz, who died in 1220, married a Somerset heiress called Helewise Malet, daughter and heir of William Malet of Curry Mallet (or Cory Malet as old documents show it). The Malet family, incidentally, was one of the few with an absolutely certain descent from someone who fought in the Norman army at Hastings. With the manor came a Barony (which at that time meant being summoned as a member of Parliament whenever the King called Parliament, usually so that he could raise a tax). The 5 generations of the Poyntz family who held the manor of Curry Mallet were:
Sir Nicholas Poyntz, Lord of Curry Mallet, c1220 - 1273
Sir Hugh Poyntz, 1st Baron of Curry Mallet, 1252-1307
Sir Nicholas Poyntz, 2nd Baron of Curry Mallet, c1278-1311
Hugh Poyntz, 3rd Baron of Curry Mallet, c1293-1337
Sir Nicholas Poyntz, 4th Baron of Curry Mallet, c1320-1376
Note that dates of deaths are generally very well known, as "Inquisitions post mortem" (IPM's) were conducted on the death of any land-holder, to establish their what land they held, and who their heir was; these Inquisitions were recorded in documents that still exist. Birth-dates were not generally recorded, although other official documents often record the hearings held to establish when a land-holder had reached the age of 21.
The page for Dorset from the IPM for the Nicholas Poyntz who died in 1273
(N.B. The words and phrases highlighted are "Dorchester", "Dorset", "Poiynz",
"manerium de Sutton", and "Hugo Poiynz")
Click the image to download a higher resolution copy
Another duty of a land-holder was to fight in the king's army when called. Contemporary official records (Close Rolls [7], [8], [9], [10], [11]) show that the Poyntz's fought in Wales and Scotland, and were excused certain taxes as a result.


The end of the Poyntz line
The last Sir Nicholas Poyntz died in 1376 with no son; the Barony of Curry Mallet thus ended. Sir Nicholas had two daughters, who succeeded to his lands. One daughter, Amicia, married a Somerset man called John Barry; they had one child, William, but Amicia, John and William all died without further heirs. All the lands thereby came to the family of the other daughter, Margaret, who had married a Dorset land-holder called Sir John Newburgh, of Lulworth. The obvious story is that Sutton Poyntz was among those lands, and so came, for the first time in its history (but not the last) to be part of the Lulworth estates. Hutchins [History and Antiquities of Dorset] seems to have followed this simple story, although he did note records that seemed to show Sutton in other hands. What really happened seems to have been much less simple, but we are now quite confident we understand the story.


Sutton Poyntz after the Poyntz's
Sutton Poyntz drops out of Poyntz family records after the death of Sir Nicholas Poyntz in 1311. The inquisitions post mortem [IPM dated 1337] for Hugh, 3rd Baron, does not include Sutton as being in his ownership (although note that another IPM entry [1329] shows that Hugh still held the manorial court at Sutton Poyntz). As far as ownership is concerned, the trail of evidence moves to the Chaundos family and then the Bryans and their descendants.

Between 1315 and 1361, Sutton Poyntz seems to have been granted as dowry to Maud (the widow of Sir Nicholas Poyntz) and her second husband, Sir Roger Chaundos. A Close Roll entry [1315] lists the properties granted to Maud on her re-marriage, and includes much of Sutton Poyntz liberty, but not Sutton Poyntz itself. However later documents [Feet of Fines 1330 and Book of Aids 1346] are clear that Maud and Roger held Sutton Poyntz.

After Maud's death in 1361, Sutton Poyntz returned to the grandson of Sir Nicholas, the last Nicholas Poyntz. This Nicholas Poyntz seems to have had severe financial difficulties, and sold much of his inheritance. As soon as Sutton Poyntz came back into his possession on his grandmother's death, he sold Sutton Poyntz to Sir Guy de Bryan [Feet of Fines 1361 and 1362]. The Bryan's and their descendants then held Sutton Poyntz for 100 years, although there does seem to have been some dispute about the Bryan title. Finally, a court arbitration awarded it (as a result of there being no further descendants of Sir Guy de Bryan) to John Newburgh. There remains some mystery about this; it is not clear why the court concluded that the Newburgh's had any claim to Sutton Poyntz, which had been sold 100 years earlier. The court's verdict is recorded, but not their reasoning, so the mystery will probably never be solved.


When did Sutton become Sutton Poyntz?
Dorset, in particular, and Wessex in general, is full of places with double-barrelled names, where the name (or sometimes rank) of the owning family has been added to the original place-name. Often this has had the effect of generating names with a peculiar west-country lilt, all of their own. Some examples from Dorset (other counties like Hampshire, Somerset and Devon have their own, but we do not need to look outside Dorset for wonderful instances):
Bere Regis, Melcombe Regis and Winterborne Kingston - places owned direct by the King;
Stoke Abbott, Milton Abbas and Winterbourne Abbas - owned by an abbey or abbot;
Toller Fratrum and Winterborne Monkton - owned by the brothers of a monastery (Toller Porcorum doesn't quite fit this pattern!);
Langton Herring, Kingston Russell, Hazelbury Bryan, Winfrith Newburgh, Combe Keynes, Worth Matravers, Melcombe Bingham, Bradford Peverell, Wootton Fitzpaine, Fifehead Neville - all retaining memory of the families that owned the villages in the Middle Ages.
Is there a word for this habit of adding an owner's name to a place-name, or for the type of place-name that results? Whatever, Sutton Poyntz fits totally into the pattern. There is absolutely no mystery about Sutton Poyntz's name (unless perhaps you choose to puzzle over what Sutton is to the south of). But when did simple Sutton become known Sutton Poyntz? We are still trying to establish this. The earliest reference we have found so far is in an Inquisition Post Mortem (an enquiry into the land-holdings of someone recently died) dated September 1314; this was an enquiry into the holdings of Gilbert de Clare, earl of Gloucester, from whom the Poyntz family held Sutton Poyntz. It is possible that the village was called Sutton Poyntz in this document in order to distinguish it from other places called Sutton in the Earl's large land-holdings. What is clear is that over the next hundred years or so, Sutton became known more and more frequently as Sutton Poyntz.


In medieval times, spelling was notoriously variable. The name we now know as Poyntz was spelled in many ways - Poynz, Poyntz, Poinz, Pointz, Ponz and others. Gradually, the spelling settled down. What is really fascinating, however, is that the family name and place name settled in different ways, and were only brought back together fairly recently. By the 16th Century, the family name seemed to be spelled universally in the modern way - Poyntz. The village, however, was called Sutton Pointz, until some time in the early 19th Century when there was evidently a determined move to change its name to match that of the family. The watershed seems to have been around 1830; after that, the village was called Sutton Poyntz. It would be nice to know more about this - what did the villagers think about it, who were the people urging the change, was there some single event that changed the name?


Sir Nicholas Poyntz, 2nd Baron, had two other sons as well as Hugh: Nicholas Poyntz (yet another Nicholas) went into the church, and became Vicar of Hoo in Kent. The youngest son, Sir John Poyntz succeeded to his mother's estate of Iron Acton, near Tockington on the north side of Bristol. Click here for information on some of the interesting descendants on this line of the Poyntz family, which continues to this day.