The historic centre of the village is mainly along the western bank of the stream, between the old Sutton Farm at the southern end up to the Wessex Water site at the northern end. The following map highlights in red the buildings that appear to date from before 1850, and in orange other buildings added up to 1900.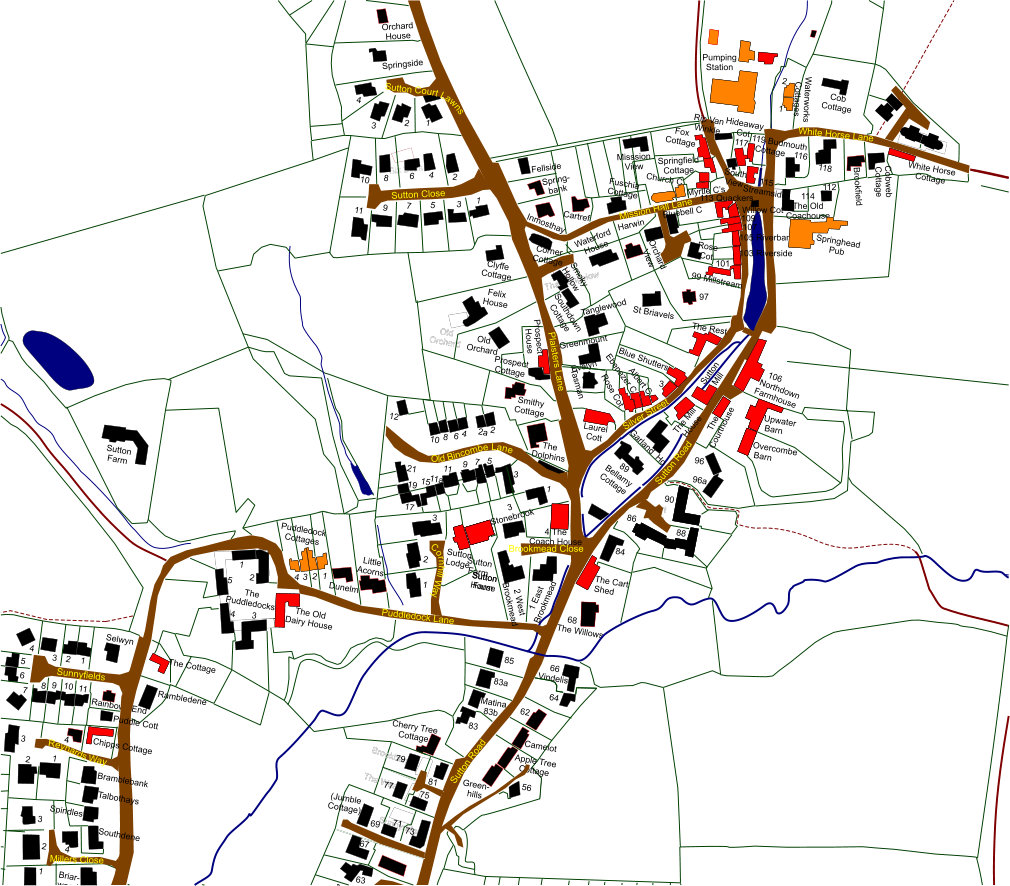 Until 1925, when the Weld family sold much of the village that they had owned for about 130 years, development was slow. The sale started a period of development, initially in two directions:
to the south, along Sutton Road, eventually leading to continuous housing (a mix of detached, semi-detached and terrace) along the whole of Sutton Road;
to the north-west up Plaisters Lane, initially with a number of large detached houses but eventually including several cul de sacs off Plaisters Lane.
Later, starting in the 1970's, the village grew in a third direction:
along Puddledock Lane, joining Sutton Poyntz to some older outlying cottages and thence to Preston.
Maps and documents
Old maps and documents help to show where the oldest houses in the village are. Of particular importance are:
A Survey Map commissioned by the Weld family soon after they purchased the Manor of Sutton Poyntz, in the 1790's; and
The Tithe Map surveyed in 1838.
By the 1890's good Ordnance Survey maps became available, although updates were fairly infrequent.
Other old documents include a survey report commissioned for the Harvey family soon before they sold the village to the Welds, and a number of older leases.
Since about 1930, planning documents give a much better record of the village's development.
Pre-1850 buildings
The oldest buildings in the village, listed from north to south, seem to be:
| | |
| --- | --- |
| The old North Mill, now the Wessex Water office building; we are uncertain whether the present building is the original Mill House (which is shown at the same location in the 1790's survey map) or a later replacement probably about 1860. | |
| A number of agricultural workers' cottages arranged loosely in a row on the west side of the Mill Pond, including a number of cottages to the north of Mission Hall Lane. | |
| More cottages, slightly larger in scale, on the west side of Silver Street. | |
| Sutton Mill and Mill House, the Mill dating from 1815 (an earlier Mill sat at the same location but on a slightly different alignment). | |
| Northdown Farmhouse and associated farm buildings (now developed as dwellings), including the building known as the Old Courthouse which presumably was the venue for meetings of the Sutton Poyntz Liberty Court; there are records of Northdown Farm back to the 17th Century. | |
| The Cart Shed, and a couple of other old buildings on either side of the fork where Plaisters Lane and Sutton Road meet, plus Prospect House just up Plaisters Lane. | |
| The old Suton Farmhouse, now divided into Sutton Lodge and Sutton House; this building mainly dates to the 1840's but probably with some older structure. | |
| The Old Dairy House, originally Puddledock Dairy house (the buildings immediately to the west preserve the alignment of the old Puddledock Dairy agricultural buildings). | |
| Two old houses (The Cottage and Chipps Cottage) further along Puddledock Lane; these were described in old documents as "cottages on the waste" i.e. cottages put up on untenanted land, in this case alongide the track. | |
Pre-1900 buildings