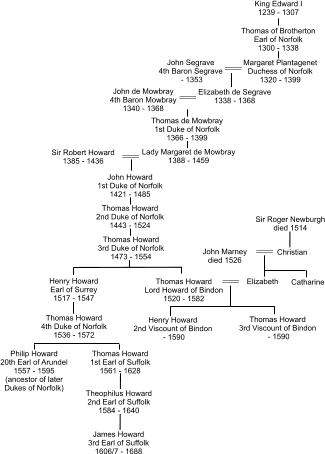 Howard family genealogy
From 1483 to the present day, the Howards have held a number of titles, of which the pre-eminent is that of Duke of Norfolk. The first few to hold this title were as follows:
1st Duke
John Howard was the grandson of Thomas de Mowbray, a Duke of Norfolk in a previous creation of the title. John Howard was a staunch Yorkist, and in particular a supporter of King Richard III. After Richard's coronation in 1483, John was created Duke of Norfolk, the Mowbray line having died out. John Howard then died, with King Richard, at the Battle of Bosworth Field. In Richard III, Shakespeare has John Howard sent a message on the eve of the battle, saying:
Jocky of Norfolk, be not too bold, For Dickon, thy master, is bought and sold
2nd Duke
After Bosworth, the new king, Henry VII, annulled the Howard titles and stripped them of their lands. However the next in line, Thomas Howard, eventually proved his loyalty and value to Henry VII and then Henry VIII, and had his titles restored, first the Earldom of Surrey and later his Dukedom. Thomas Howard was grandfather to two Queens of England, Anne Boleyn and Katharine Howard.
3rd Duke
The 3rd Duke of Norfolk was another Thomas. In his early years, he fell partly out of favour, in particular conflicting with Thomas Wolsey on policy. Thomas's fortunes grew when the king married Anne Boleyn, Thomas's neice. After Wolsey's fall, Thomas had his father's Dukedom restored. For a time, Thomas's importance and fortune grew, especially when a second neice, Katherine Howard, became Queen. Even Katherine's execution did not lead to a loss of Thomas's power. But Thomas eventually lost his position as a result of acts by his son, Henry Howard, Earl of Surrey. Henry, who was one of the first English poets to use the sonnet form, offended Henry VIII ostensibly by using part of the royal arms in his insignia (although this was part of a wave of arrests perhaps induced by the king's illness). Both Henry and Thomas Howard were arrested, tried and condemned to death; Thomas lost his title. Henry was executed, but Thomas was saved because the king died before the date of his execution.

Thomas was held in the Tower of London throughout the reign of Henry VIII's son, Edward VI. When Queen Mary succeeded, Thomas Howard was released, and had his titles and lands restored. Thomas died peacefully aged 81.
4th Duke
Remember that the 15th Earl of Arundel, Humphrey FitzAlan, had owned Sutton Poyntz about 80 years before, but died aged 9. He had inherited Sutton Poyntz from his mother Maud Lovell
He was succeeded as Duke of Norfolk by his grandson, the 4th Duke of Norfolk, yet another Thomas Howard. This Thomas married Mary FitzAlan, daughter of the 19th Earl of Arundel; he and his descendants by her thereby eventually took the additional title of Earls of Arundel, and changed their family name to FitzAlan-Howard. After Mary's death, Thomas married another heiress, Margaret Audley; their eldest son built Audley End, then the largest stately home in England.

The 4th Duke leant towards Catholicism , and seems to have offended Queen Elizabeth in various ways. Charges were brought against him, which may or may not have been true; these included scheming to marry Mary Queen of Scots, and involvement in a treasonable plot to put Mary on the English throne. He was condemned, had his Dukedom removed, and was executed. The Dukedom was then not restored until four generations later.