10 December 2023 - Tony Ferrari
Erica Ferrari has asked us to remind you that Tony's funeral will be held at Weymouth Crematorium, Quibo Lane, DT4 0RR, on Friday 15th December. The funeral will commence at approx 1pm and afterwards at St Andrew's Church Rooms, 4 Church Road, DT3 6BU.
Erica very much hopes that all her friends in the village will be able to attend.
No flowers please but if you would like to make a donation, Weymouth food bank would be the family's choice. Tony used to put out the Sutton Poyntz collection box by the phonebox every Sunday, collect it the next day. and take it to the Littlemoor collection point. The box will be put out as normal today, but next weekend it will be put out early, on Thursday, and left there all over the weekend. It will be emptied regularly - let's see if we can fill it every day.
J & S
01 December 2023 - Ho-ho-ho
An amazing result to announce from The Springhead - their Charity Cake Morning raised a stonking £1000 (give-or-take) for the DCH Fortuneswell Ward. MANY thanks from Karen and Jo to everyone who contributed (and munched on those gorgeous cakes!)
And we hope you enjoyed the Christmas Coffee Morning at the Mission Hall today.
I was also able to open door number 1 on my Advent calendar - oooh!
As you know the official lighting of the village illuminations by Rev James Menzies will be at 6pm on Sunday. There'll be music, mulled wine and mince pies - but there's more from The Springhead - if you pop in afterwards and whisper a secret password (that you will only find out at the lighting ceremony), they will give you a complimentary glass of fizz (or, indeed, more mulled wine!) Wow, the festive season is well under way in Sutton Poyntz!
And don't forget Monday 18th - Carols with the Salvation Army Band at the Mission Hall!
J & S
27 November 2023 - Reminders
If you missed the Curry & Magic night on Saturday - well, you missed a really good event. Enormous thanks to all those who slaved away up to their elbows in buckets of tikka and pounds of masala, all washed down with poppadum, mango and raita. If there's a repeat performance be sure to get in quickly buying your magic tikkets.
Friday 1st December - Christmas Coffee Morning
Unfortunately Amanda Anderson from the police has another commitment and can't make the Coffee Morning as planned. Keith Raw will be there should anyone have any Neighbourhood Watch queries. If you were planning on keeping your head down due to the police presence you can relax - and join the rest of us and enjoy some mince pies, yule log, etc. I asked Keith if he had any bits remaining from his policeman scarecrow that he could wear, but apparently he only wears the hat at weekends and he keeps the (fluffy pink) handcuffs for special occasions.
Sunday 3rd December - Village illuminations - the big switch on
The celebrations will continue (phew, is there no end to this?) and Rev James Menzies will do the honours at 6pm
Monday 18th December - Carols with the Salvation Army Band at the Mission Hall
J & S
23 November 2023 - Charity Cake / Brunch
This Saturday morning!
Yes, your local (The Springhead) is holding their annual fundraiser for the Fortuneswell (cancer) Ward at Dorset County Hospital.
Karen and Jo do this every year in memory of their Dad, John, so please come along, enjoy an enormous slice of cake and give generously.
J & S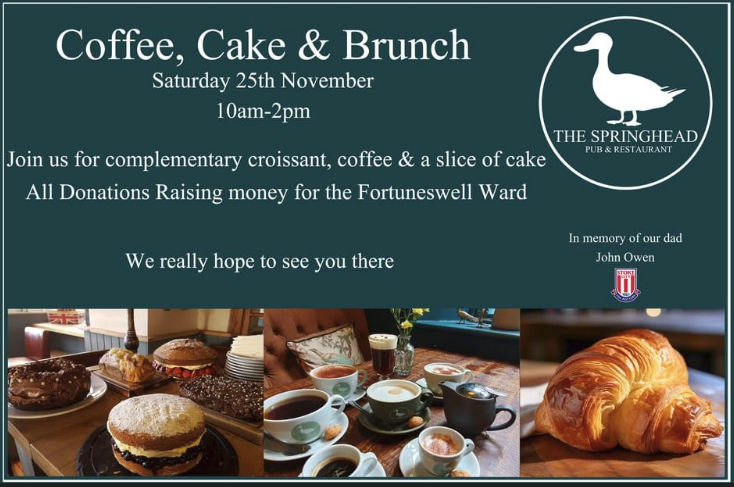 21 November 2023 - Children in Need
Good news to report!
The village raised the excellent sum of £486.16 for Children in Need, made up of £407 from the Coffee Morning and Soup & Rolls on Friday 3rd November, plus £79.16 from the coin collection (also an assortment of half-p coins, foreign look-alike coins, and one old penny - I'd forgotten how huge they were!)
A great effort by the village and by the event organisers, for which many thanks.
Regards,
Bill
19 November 2023 - Temporary Road Closures on November 23rd
Dorset Council have published the notice below, relating to a distance of 1040 metres between Sutton Road and Plaisters Lane (?)
They note in particular that "all vehicles will be prohibited from proceeding along Various Roads".
I hope that's clear. If you live on Various Roads, I recommend you stay at home on Thursday...
On a more optimistic note, maybe they're filling some potholes?
Temporary Closure of Various Roads, Sutton Poyntz
Starts: 23/11/2023 Ends: 27/11/2023
Dorset Council has made a Notice under Section 14 [2] of the Road Traffic Regulations Act 1984 as amended. All vehicles will be prohibited from proceeding along Various Roads, Sutton Poyntz, Weymouth between Sutton Road and Plaisters Lane, a distance of approximately 1040 metres. The Notice is needed in order to comply with health and safety regulations which require the provision of safe working areas and to minimise the likelihood of danger to highway users.
It will come into operation on 23 November 2023 between 09:30 and 14:30 and remain in force for five days, but it is anticipated that the works will be completed by 23 November 2023.
This Notice will enable Dorset Council to carry out essential highway maintenance works.
Please note that the dates are a window of opportunity and the road may not be closed for the whole duration stated above and the works are weather dependant. A locally signed diversion route will be put in place to enable traffic to travel around the closed section.
For further information about the work being undertaken and access arrangements, call Dorset Highways Operations on 01305 228100.
To discuss this Notice, contact Dorset Council on 01305 221020 or use our website:
www.dorsetcouncil.gov.uk/roadworks/enquiries. You can also find this information online: dorsetcouncil.gov.uk/roadworks-events.
For further information please follow this link.
J & S
16 November 2023 - Sutton Poyntz Victorian Street Fayre Needs You
The first piece of good news is Paul Caddy has put his head above the parapet as a potential Chairman with David Langridge offering guidance as Paul takes on this role.
A further "Make or Break" meeting is being held in the Blue Duck Bar on Wednesday 29th November at 7 pm to recruit the final committee roles, the event will not go ahead unless they are filled.
Main Committee roles still to be filled – Secretary, Treasurer, Manpower, Parking, Village Stalls, Equipment, Publicity/PR/Facebook
Read more: Newsbite 231116 Sutton Poyntz Victorian Street Fayre Needs You
15 November 2023 - December Coffee Morning - and more
As if you needed reminding there'll be a monthly Coffee Morning at the Mission Hall at 1030 on December 1st. But read on...
This will be the Christmas Coffee Morning with mince pies and yule log! And it'll be for the princely sum of £0.00! Yup, our Christmas gift to you! And as if that wasn't enough, Amanda Anderson from Dorset Police will join us to chat about your local issues. By the way, if you're not on the separate distribution list to be part of the Neighbourhood Watch community, email Keith Raw and he will keep you updated on what's happening. This email address is being protected from spambots. You need JavaScript enabled to view it.
On a separate topic, the Sunday evening food bank collection championed by Tony Ferrari is still carrying on and greatly appreciated by the organisers. Thanks to those volunteers who have stepped forward to try to fill Tony's shoes.